Machines that make one kind of pill often have traces of others—an issue so serious it can jeopardize Olympic dreams.
Brady Ellison, a three-time U.S. Olympic medalist in archery, is going for gold in Tokyo, though he was almost disqualified. Pills he takes for a thyroid condition contained traces of a drug banned by anti-doping authorities. "I had absolutely no clue," says Ellison, 32.
While few have access to Olympics substance testing, many would find themselves in a similar situation if they did. The trillion-dollar prescription-drug industry has a problem it doesn't like to talk about and doesn't fully understand. Manufacturers stamp out pills for one condition on the same machines they use to stamp out pills for a different one, and while they're supposed to clean between production rounds, trace contamination is common and, some argue, inevitable.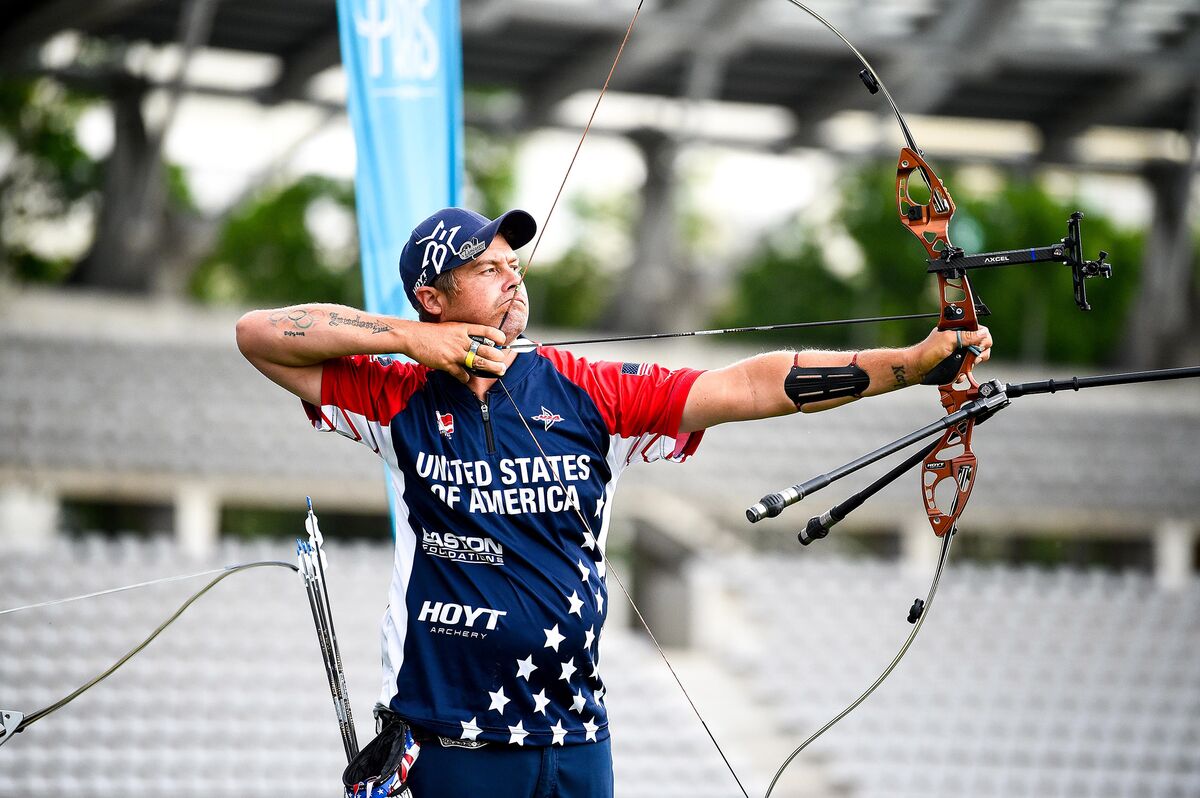 Current and former U.S. Food and Drug Administration inspectors, who spoke on condition of anonymity, say the extent of the contamination is unclear, because companies largely police themselves, workers get sloppy, and supervisors are lax. More should be done, they say, but how much and at what cost are a matter of keen debate. Ellison's pills contained a diuretic, which Olympics officials ban because it can be used to flush—and therefore hide—illegal substances. It didn't affect him, but the inspectors say its presence hints at a larger problem.
"I wish I could say everything is perfectly safe," says Jim Agalloco, an industry consultant who worked in pharmaceutical manufacturing for almost 20 years, including at Pfizer Inc.
In 2019, before the pandemic, the FDA publicly reprimanded 21 companies for cross-contamination. In many other instances, federal regulators handled it behind closed doors. Mylan NV was among the 21 scolded in public. One of the largest generic drug makers until it merged with Pfizer's Upjohn last year to sell brand-name and generic drugs, it got a warning letter expressing concerns over cross-contamination at a plant in India with a drug that contained probable carcinogens called nitrosamines.
Starting in 2018, there was a global recall of blood pressure pills tainted with nitrosamines, cancer-causing chemicals later also found in the diabetes drug metformin, the heartburn medication Zantac and its generics ranitidine, and Pfizer's smoking-cessation drug Chantix. The tainted blood pressure pills were the subject of a 2019 Bloomberg Businessweek cover story that chronicled how the contamination occurred and failures by industry and the FDA to find the carcinogens sooner. Mylan had failed "to clean equipment and utensils to prevent contamination or carry-over of a material" the FDA said.
Mylan had received a similar warning in 2018 at its Morgantown, W.Va., factory, after an inspection led it to recall 2.5 million loxapine capsules for schizophrenia. In 2020 it got a letter about a different plant in India. That warning listed a second violation: failure to thoroughly investigate when routine testing shows a product doesn't meet U.S. standards for cross-contamination or anything else.
Mylan, which became Viatris Inc. in the merger, said in a statement that the FDA has closed out the warning letter it sent in 2018, having determined the concerns raised at the West Virginia plant had been addressed. Viatris also has "implemented and completed comprehensive plans to address all of the points raised in the warning letters" for the two plants in India, the statement said. "Protecting patient health by ensuring the quality, safety, and supply of our products is at the heart of how we operate across our highly diversified global manufacturing network of more than 40 manufacturing sites located in all parts of the world," the company added.
Part of the difficulty is that so little is understood about the actual dangers of cross-contamination. The FDA determines when to inspect the hundreds of factories registered to produce drugs in the U.S., based on its calculation of risk associated with each plant. For Mylan, that's been about once a year, while other factories can go a few years in between inspections. The industry and its regulators believe some contamination is unavoidable and acceptable, a view summed up by Robert Pollock of Lachman Consultants, a former acting deputy director of the FDA's Office of Generic Drugs. "The situation is well in hand," he says. "It's impossible to get zero cross-contamination."
Ed Sargent, a retired industry consultant who worked as a senior toxicologist at Merck Inc. for 25 years, is less sanguine, saying he's "seen some bad stuff out there." When routine testing reveals something inappropriate in a drug, that's not grounds for companies to test the products for residue from medications made before it on the same equipment. Instead, if companies say their cleaning protocols are rigorous and they haven't recorded elevated levels of material left behind, they rule out the need for cross-contamination testing, the current and former FDA inspectors said. The agency also hasn't routinely collected samples of drugs for testing when it finds red flags.
Broad independent testing for cross-contamination is challenging. Testers need to know what they're looking for or, at least, what drugs were made on the same machinery, and companies don't publicize what they make in which factory. Olympian Ellison's situation was rare; the U.S. Anti-Doping Agency was on the lookout for specific substances.
Around 2003, an industry standard evolved for how to assess cross-contamination and whether certain amounts were risky, according to Sargent. The FDA sought the industry's advice in creating the standard. It directs companies to run risk assessments on drugs to determine an acceptable accidental exposure. That is used to establish standards for cleaning equipment. If too much residue is left after inspection or testing, companies are directed to clean again.
Toxicologists are supposed to write the standards, but Sargent noted many drugs are made in China and India where costs—and standards—are lower. These are also countries where the FDA has less reach and, particularly during the pandemic, hasn't been able to conduct many inspections.
The FDA itself has taken contradictory stands on impurities in drugs. When the carcinogenic nitrosamines were first detected in 2018, it said they'd be eliminated from drugs. Now, FDA chemists and toxicologists acknowledge that the industry will likely continue to manufacture drugs that contain small amounts of nitrosamines capped at levels not exceeding a theoretical excess cancer risk of 1 in 100,000.
"That does not assure that cross-contamination did not occur," the FDA wrote, as if establishing a new standard on the fly.
The agency asked Lupin to test drugs headed to the U.S. market that were made on the tablet press and to obtain an independent assessment of the company's "cleaning effectiveness to evaluate the scope of cross-contamination hazards," including whether cross-contaminated drug products may have been released for distribution.
Lupin had received a similar warning in 2019 for one of its factories in India. At the time, the company acknowledged its cleaning procedures weren't followed and its post-cleaning checks were inadequate, according to the letter. (Lupin did not respond to a request for comment.)
"There should never be visible residues of a previous drug left behind on equipment surfaces," says Jeremy Kahn, an FDA spokesman. If something visible is left behind and a company claims the carryover is below its allowable limits, it's likely those limits are too high. "Poor cleaning procedures and practices may also result in nonuniform and excessive contamination of the next drug," he says.
Last October, Ellison, was taking a drug called levothyroxine sold by New Jersey-based Alvogen. He tested positive for trace amounts of a diuretic banned by the Olympics. His lawyer suggested sending his medicine out for analysis, which is what allowed him to escape disqualification. (Alvogen didn't respond to a request for comment.)
The U.S. Anti-Doping Agency says 32 Olympic and Paralympic athletes have almost been sidelined since 2016 due to trace contamination of medications, supplements, and foods with banned substances. Nine involved diuretics tainting other generic medication.
The U.S. agency has been working to get the World Anti-Doping Agency to loosen its standards so athletes won't face an unfair ban that could end their career. In May, the international group upped the threshold for diuretics.
Considering the close call, Ellison is grateful to have made it to Tokyo, saying, "I could've missed it for something so stupid."
Contaminated Drugs
Safety Alert